Libraries Connected Awards 2023 winners revealed!
Jun 21, 2023
The librarians behind a family-friendly tech festival, an innovative prison library and a scheme to inspire young entrepreneurs are among this year's winners of the Libraries Connected Awards.
The Awards celebrate the achievements of library workers who have had an exceptional impact on their library service, users or their local communities. The Awards have six categories reflecting the core services that modern library services provide.
Librarians from Oxfordshire, Guernsey, Staffordshire, Redbridge, Kent, Portsmouth and Norfolk received their awards last night in a glittering ceremony at Wyboston Lakes, Bedfordshire.
The winners were chosen by expert judges including crime writer Priscilla Masters and children's author Cathy Cassidy. The judging panels also included Arts Council England, The Reading Agency, BBC Arts and library app developer OverDrive, who are again generously sponsoring the Awards.
The winners are:
Children's Award
Oxfordshire Business & IP Centre Team (Jane Mason, Ewan McGuigan, Ryan Johnson, Unai Ledesma, Mariana Costa)
The team at Oxfordshire Business & IP Centre has introduced hundreds of children and young people to entrepreneurship through workshops, networking events and one-to-one business information sessions in its cutting-edge facilities, which include a marketing suite, VR headsets, interactive TVs and market research databases. Through strong partnerships with local schools, universities, charities and youth justice system, BIPC Oxfordshire inspires the next generation of entrepreneurs and offers positive opportunities to those at risk of youth violence or criminal exploitation.
Culture and Creativity Award
Boundless Curiosity Exhibition Team (Adam Bayfield, Jodie Hearn, Chris Jordan, Abi Paine, Tracey Woosley), Guernsey
The Boundless Curiosity exhibition celebrated Guille-Allès Library's 140th anniversary, telling the fascinating story of its origins and showcasing some of the treasures in its collection, including Audubon's Birds of America - one of the rarest and most beautiful books in the world. The team worked tirelessly throughout the year to bring Boundless Curiosity to life, often giving up evenings and weekends. The result was a world class exhibition that attracted over 5,000 visitors in the first half of the run and led to overwhelmingly positive feedback. Many people commented that it was the first time in years that they had set foot inside the Library, prompting a surge in new members.
Health and Wellbeing Award
Werrington Community Library and Wellbeing Centre (Wendy Sandbrook, Betty Johnson), Staffordshire Libraries and Arts Service
Wendy and Betty are part of a team of volunteers who operate the Werrington Community Library and Wellbeing Centre, a community-managed library within Staffordshire Libraries and Arts Service. Wendy and Betty's focus has been on meeting the health and wellbeing needs in the local area, which has over twice the national average of elderly and very elderly residents. In consultation with the local patient group and doctor's surgery, they have established a varied programme of health events and activities delivered by local organisations. Income raised through the library shop subsidises room room hire costs for local wellbeing providers, bringing a wider range of services to the community.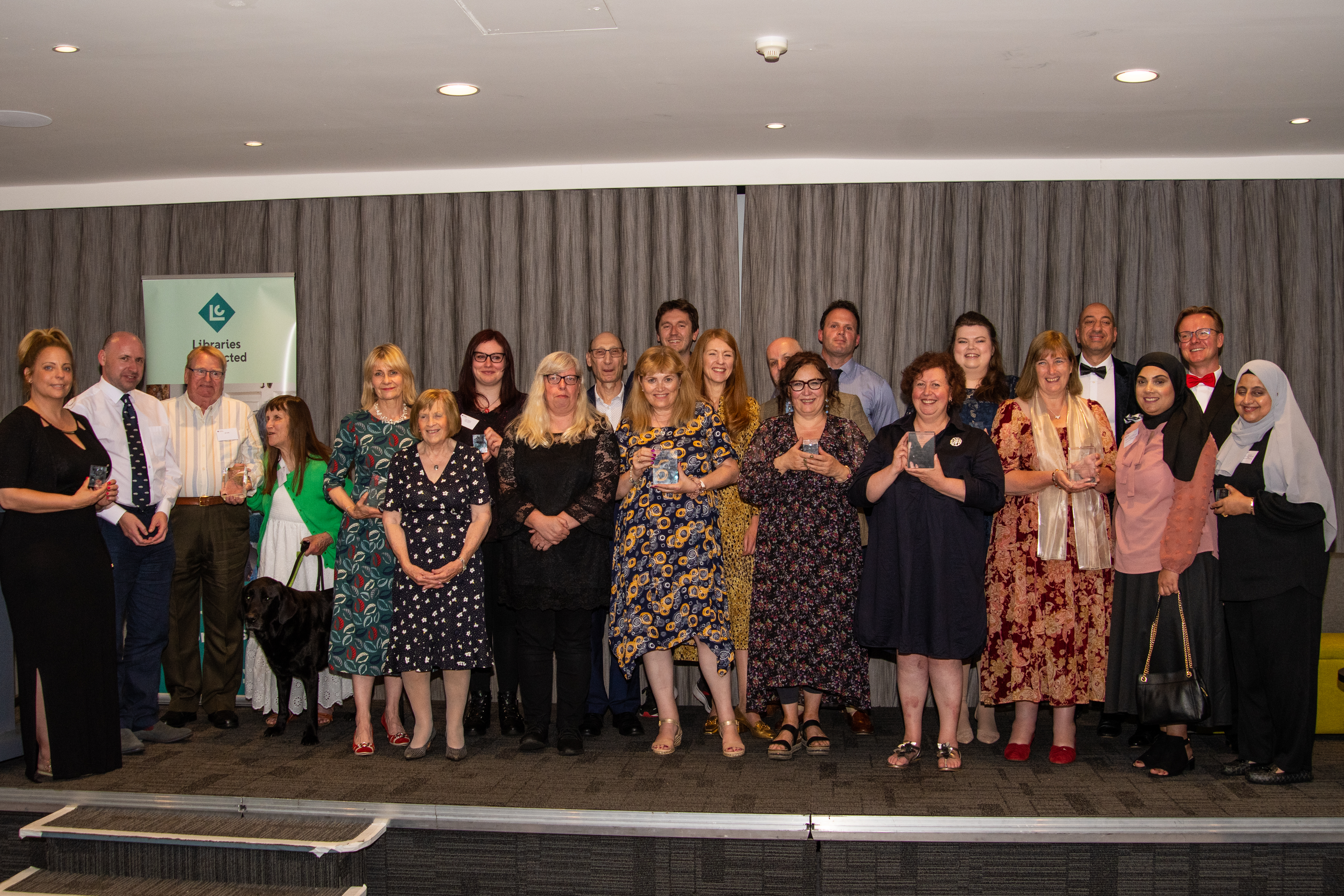 Information and Digital Award
Michael Davis, Senior Library Assistant, Maria Reguera, Development Librarian (Digital & Innovation), Vision Redbridge Culture & Leisure (Redbridge Libraries)
Michael and Maria were nominated for their work with Lab Central, Redbridge's digital makerspace programme which includes Tech Ilford, an annual festival celebrating Science, Technology, Engineering, Art and Maths (STEAM). It was developed in 2017 as part of the Lab Central digital arts programme to engage and inspire the tech innovators of the future. Maria and Michael created the festival in response to growing demand for affordable STEAM activities in the borough. Both Maria and Michael are passionate about their work and consistently go the extra mile; their ideas have reinvigorated the library as a space for young people, with an estimated 10,000 taking part in one of the projects.
Reading Award
Tracy McKechnie and Liz Gunn, Kent Prison Libraries (Kent Libraries, Registration and Archives)
Tracy and Liz are nominated for their use of technology to encourage more prisoners to use the library at HMP Swaleside. During the pandemic, the prison library was forced to close so Tracy and Liz had to quickly start a remote service. They offered a book request service for prisoners, started up a 'Lucky Dip' DVD club so that films could be borrowed fairly, produced a regular newsletter and encouraged prisoners to take part in reading and family initiatives. Liz and Tracy stand out for their dedication to improving the lives of their customers.
Vision & Print Impaired People's Promise Award
Julie Duffy - Vision Impairment Services Officer, Portsmouth City Council
Julie is nominated for her innovative work making Portsmouth Libraries more accessible to people who are blind or vision impaired. Julie, who is blind herself, is Portsmouth Library Service's Vision Impairment Services Officer. For over 20 years she has used technology to support disabled adult learners in Portsmouth's libraries and has developed a comprehensive range of services for visually impaired adults. She has also established two information and support groups at Central and Southsea Libraries, which are regularly consulted by the council and external agencies. Working with the wider Portsmouth community, Julie has provided disability awareness sessions in schools and worked on an intergenerational project where local secondary pupils helped older blind and vision impaired adults access audiobooks and digital resources.
President's Award
Jill Terrell - Head of Norfolk Libraries and Information Service
The recipient of the President's Award is chosen personally by the President of Libraries Connected to recognise an outstanding contribution to the public library sector. Current President Ayub Khan MBE describes Jill as "a wonderfully supportive head of service and a brilliant regional friend who freely and kindly shares her advice, experience, and wisdom". Jill has worked for several library services over her career, including Newham, Suffolk, Cambridgeshire and Norfolk, where she is currently head of the Libraries and Information Service. Jill was also Head of Library and Manuscripts at the National Maritime Museum. As an active member of Libraries Connected, Jill has made invaluable contributions to national and regional projects as a leader, supporter and tireless champion.
Isobel Hunter MBE, chief executive of Libraries Connected, said:
These Awards highlight the incredible opportunities that libraries offer to their communities. But most importantly they recognise the people that make that possible: the library workers who show such dedication, creativity and innovation every day. The winners are a credit to their library services – and to the public library sector as a whole. Huge congratulations to them all.
Nick Forster, regional manager at OverDrive, said:
It's a privilege to be able to sponsor these Awards and it's great to see them going from strength to strength. We've been hugely impressed by the quality of the nominations and this year's winners demonstrate a breadth of innovation, commitment and talent that show our libraries at their very best. Congratulations!